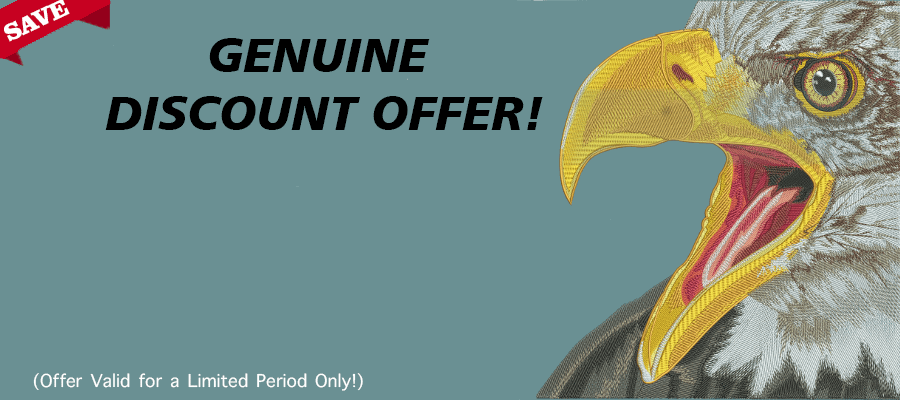 Spectacular savings - Get 50%* off all your orders placed using 2-day service
Promo code: DIGXMAS21
*Budget delivery only 
For designs ordered till 10th January 2022 with NO unpaid invoices in your account.
30% Discount on Embroidery Digitizing and Vector Artwork orders till 17th August 21 (See details below)
To grab this fantastic deal, all you need do is go to the order form, choose a two-day budget delivery and type in the promo code SAVE30. You will now see a popup at the bottom of the page saying your promo code is applied. (this will not work if you choose a rush or 24-hour delivery- If you need it sooner, type and let us know in the notes section, and we will accommodate your request)
All our completed orders are accompanied with a Scanned image of the embroidery test run… and for easy estimates, our super fast stitch quotes come with a visual embroidered mock-up as standard.
The good news? You won't be sacrificing the quality of your finished design just because you're saving money. In fact, with over 3 decades of experience specializing in small text and complicated designs, our embroidery digitizing and vector artwork service is second to none.
Our embroidery discount codes are simple to apply, please find instructions below.
Quick Enquiry / Order
For new customers only. All emails will be verified first
Existing customers please use Login button
To activate your promo code simply log into your account.
Upload your file to the system
Enter the design name and your PO number if required
In the Promocode box enter the relevant promo code.
Your discount will now show below the promocode box. Estimated pricing will show at the bottom of the page.